Yes! There are plenty of apps that now track the same stats as a dedicated device.
Smartphone vs Bike Computer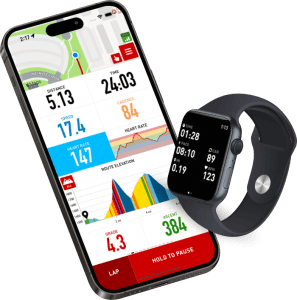 Cycling computers measure important stats like distance, speed, cadence, lap stats, and GPS location. They also keep track of your total ride time and can give you an average speed (and much more) for your ride.
But, there is a way to get all of that same information on your phone! Certain apps, like Cadence, do everything that a cycling computer does without needing to purchase expensive equipment.
General Info About Cycling Computers
Cycling computers have become almost a necessary piece of kit for the regular cyclist. They provide you with live data on your speed, distance, average speed, calories burned, and more. In some cases they can even give navigation to help get you from A to B.
A bicycling computer is a must-have tool for anyone that wants to improve as a cyclist because it tracks pretty much all important factors of your ride. Or is it…?
Because of advancements in technology, you can get all the features of a bike computer through the Cadence app.
Why Don't Cyclists Switch To Using Their Phones?
Cycling is an incredibly popular sport and there are many cyclists who wonder if they can use their smartphone instead of a cycling computer. Unfortunately, many people also think that this isn't a good idea.
Let's dive deeper into a few reasons why people will not consider switching to using their phone as a bike computer, and how to combat them.
Can A Phone App Really Compete With A Powerful Cycling Computer?
If you're still unsure, no need to worry. There are some great bike tracking apps available for both iOS and Android phones that have all of the features of a dedicated device. The Cadence app has a clear, easy-to-read interface that packs in a lot of functionality without feeling cluttered or overwhelming.
Cadence includes GPS tracking, so you can easily follow routes you've mapped out on your computer while out on the road (or trails), and it tracks speed, distance, and heart rate among other critical data points. Cadence actually tracks over 100 metrics and allows you to customize your home screen and see exactly the stats you care about most.
Subscribing to the most expensive version of Cadence would be like buying a Garmin Edge 1040 and using it for 15 years (unlikely it'll last that long!) or a Wahoo Roam for 10 years!
Will I break My Phone if I Crash My Bike?
For those of you who are casual cyclists, the thought of running your phone on your bike might be a bit nerve-wracking. After all, if you crash hard enough to break the screen, that's going to cost you a pretty penny.
Let us put your mind at ease with two simple words: "right case". If you're going to mount your phone on your bike, make sure it's in a case. There are plenty of options out there in terms of cases and mounts for cycling phones, but the two main things you need to look out for are secure attachment and protection from impacts. Most newer phones are resistant to rain, but if you expect a lot of water, consider a waterproof case as well.
I've Never Mounted My Phone to a Bike!
It's important to have the right phone mount when using your smartphone as a cycling computer. If you don't, you won't be able to see the screen or could risk damaging your phone in the case of a crash or rain.
Make sure to use a phone mount that is secure and doesn't move around while riding, but also allows you to easily remove your phone from your bike — this will prevent people from taking your smartphone if you leave it unattended.
Check out our recommended bike phone mounts.
What if I Run Out of Battery?
Battery life is an understandable concern for anyone using their phone as a biking computer. You're going to be in the middle of nowhere with no way to recharge; this could leave you stuck or unable to make that call in case of emergency. We have good news: there are ways around this issue.
First, depending on settings, know that Cadence can be open and functional for 10+ hours on iPhone 11 and newer models (4+ hours on 5S models). So as long as you're not planning on biking for beyond that time, you should be good to go!
If you are worried about running out of battery, get yourself a battery pack that has enough juice to fully charge your phone multiple times. There are plenty of options on the market, and they come in different sizes—so you won't have to feel like the pack itself weighs more than your bike.
If all else fails, simply use your phone's "power save mode" or make sure you don't go out for too long on your first few rides so you can figure out how low your battery will get before running out of power completely.
Benefits of Switching to an App
Using an app is extremely more cost-efficient than purchasing or upgrading your cycling computer!
As it's one of the most popular smartphones, we'll use the iPhone as our example. Even though an iPhone is more expensive than many cycling computers, if you already have a smartphone, then you can use that instead of spending extra money on a cycling computer. If not, you can often buy old models of iPhones quite cheaply online – they might be older but they will still do the same job.
In fact, your smartphone offers more functionality than bike computers that cost hundreds of dollars. Do you need a GPS unit that pairs with your cycling computer to track your rides? Your phone has this built-in and is more accurate than some standalone units. Do you want to listen to music or see who's calling or texting while riding? It's right there for you to see.
Why Choose Cadence?
Cadence is a free app which turns your phone into a powerful bike computer. Here are just some of its main features:
Ride and run outdoors and track your location on a map with GPS.
Run and bike indoors on bicycle trainers, treadmills, and exercise bikes.
Create custom run and bike routes and follow them on a map.
Turn by turn navigation with voice directions so you never get lost on your rides and runs.
Customize an unlimited number of activity screens to see just the data you want. You can view anywhere from 1-16 stats at a time on a single screen, so no matter how advanced you are as a cyclist, you can create the perfect layout for YOU and your goals.
Track all your bike and run data, including: speed, elevation, cadence, heart rate, power, calories, grade, pace, temperature, averages, laps, sunset, and over 100 more!
Connect Bluetooth sensors like speed, cadence, heart rate, power meters, indoor exercise bikes, and Garmin Varia radar sensors.
Use your Apple Watch to view stats and track heart rate.
Automatically sync with Strava and Apple Health.
Analyze all your running and biking activity data including charts, laps, splits, heart rate zones, power zones, and more.
Create offline maps for when cell service isn't available.
Export .tcx files to upload to other services like Garmin Connect.
All your saved activities are stored privately and securely on your device.
Dark and light themes, auto-pause, countdown timers, voice announcements, international data formats, and dozens of other options to customize Cadence Running and Bike Ride Tracker just how you want!
Cadence is a well-designed app that really makes it impossible to miss your cycling computer.
You can download Cadence from the App Store or Google Play store today!